~~ It took every ounce of civility I possess to not yell at the man across the room who was telling a nodding companion, "You can't convince me that Obama didn't know Ebola was coming; he's from Africa, you know."
~~ There's this
: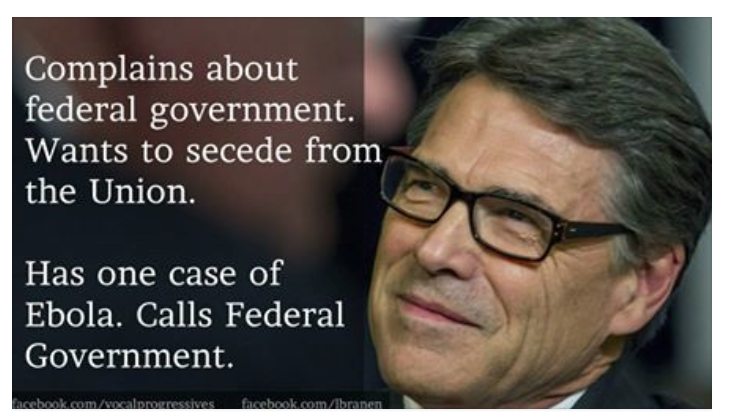 ~~ I don't know a single person in Hong Kong, but I am pulling for everyone in the Umbrella Revolution.
~~ The woman was always exceedingly curt and grumpy whenever I saw her, so I avoided her. The other day, she sought me out to say "Good morning." When I advised her that I was surprised to be engaged by her, considering her past behavior, she apologized. "I'm often in a lot of pain and don't suppress it well." She then offered me a compliment and a conversational nicety. The encounter led me to reflect on some of my other adverse judgments and aversions, although it's rare to actually get the opportunity to revisit a situation to determine if second impressions are more accurate than first.
~~ I overheard a mom say to her child, "Kids don't get privileges until they're six years old, so stop asking."
I don't know whether it's more intriguing to speculate as to what those privileges might be… or bitch that I never knew about that rule.
~~ I have been seeing a doctor for a series of visits (nothing's wrong with me, but as a close family member had an issue, I wanted to be sure that I was not similarly affected). Last week, I was running a bit behind and didn't have time to stop home for a book or my knitting. I arrived at the doctor's three minutes before my scheduled appointment, found that there was no parking, went to another building's lot a quarter-mile away, hi-tailed it to my doctor, then sat for one hour in the waiting room, listening to the inane blatherings of some TV judge and reading a 2013 InStyle magazine. This week, I arrived 15 minutes early with knit bag in hand, found a parking spot right away, and saw the doctor within five minutes! (That judge? He asked two people whether they'd stay married if she hadn't become pregnant, and when neither had a definitive answer, declared that they "both needed to try harder to impress me." I coughed and tuned the show out again.)
~~ The freelance writer wanted to pitch me an environmental story. I was on the fence about his writing sample, so I googled a bit to see if I could find more of his writing. I sure did! Per his tweets, he's pro-plastic bags, pro-fracking, and vehemently in denial about global climate change. And he wrote a Letter to the Editor last year bemoaning a ban on smoking at the beach. Adiós, dude. Maybe the Tea Party has an environmental column you can write?
~~
The October issue of Boating Times Long Island is out. I hope you'll enjoy it! http://boatingtimesli.com/NY/
Have an easy fast if you're observing Yom Kippur. In any case, have a wonderful weekend!
J!-E!-T!-S! JETS! JETS! JETS!
LET'S
G
O
RANGERS!